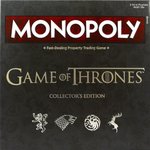 We are reducing the price of the Monopoly!!
Fun facts about Monopoly, it's actually created by a Georgist to illustrate the principle that renting makes landlords richers and tenants poorer. It was designed to not be fun as to show people that if you don't own property, you will slowly running out of your money until you go bankrupt. It's supposed to be boring and frustrating that people will understand how terrible the renting system is…
Well I guess they don't take into account the property market nowadays, but yeah check out our sale or Monopoly collection and don't forget to use the coupon.